Haskins Residence 2015 Landscape Master Plan
Jessamine County, Kentucky

PLA was commissioned to "wow!" the Homeowner. He was seeking a master plan for his back yard that entailed at patio replacement, new deck to replace the existing pressure-treated lumber deck which he hated the layout of, a pool, outdoor kitchen, outdoor seating, firepit(s), dining area, landscape, and opportunities to do all of this while still preserving the views to the neighboring horse farm from his living and bed rooms. PLA provided design concepts and material recommendations for new ipe wooden decks to match the curves of the pavement and reflect accents of the house, a spiral staircase to match the wooden deck and black balusters, bluestone tile paving on the pool deck, outdoor kitchen with overhead pergola structure, large pergola structure with understory plantings along east edge of the pool deck, a split-face natural stone seat/retaining wall, an in-ground/above-grade firepit, site furnishings, and landscape plant recommendations. PLA also worked with another local ISA Certified Arborist to provide proper tree pruning for several of the large existing trees on-site.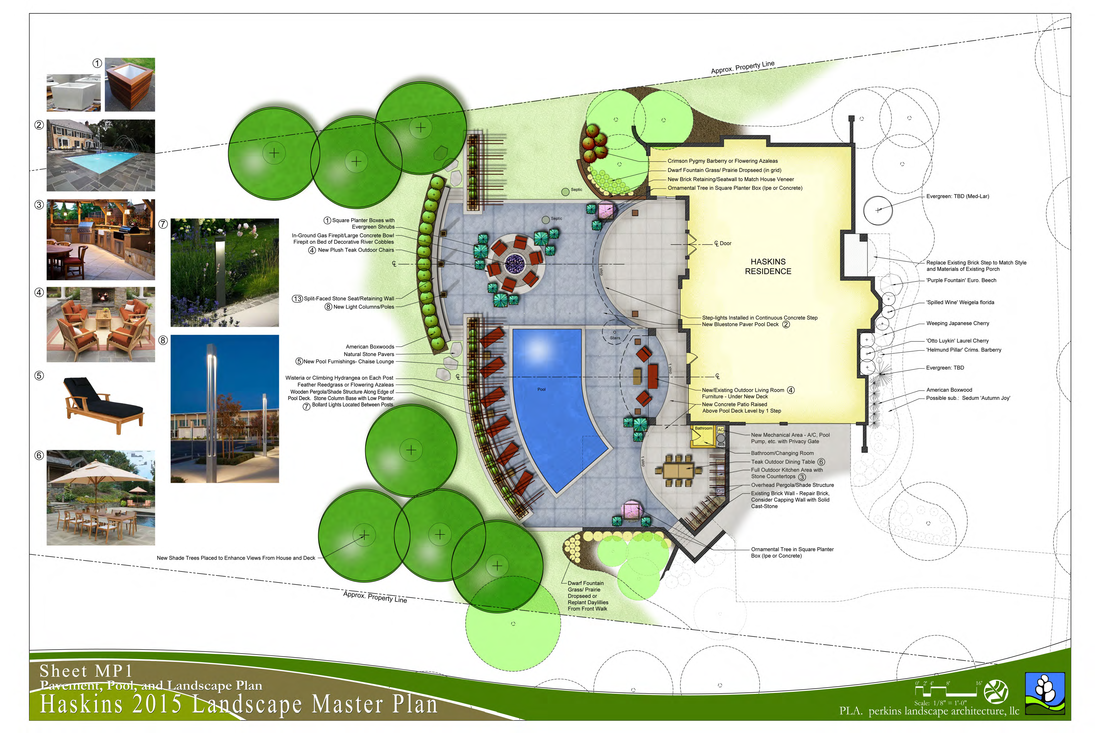 ---
Southview Drive Traffic Calming and Stormwater Improvement Project
Open Gates Neighborhood, Lexington, Kentucky
The design intent for this southern-most portion of Southview Drive in south Lexington is to reduce traffic speeds and reduce rainwater impact on the existing sewer system and South Elkhorn Creek watershed. The Open Gates neighborhood where this portion of roadway is found is currently in transition. The ages of the residents is increasingly becoming younger and the presence of small children present in and around the street is again on the rise as in the late 1950's when the neighborhood was first developed. The conceptual plan focuses on the 2800 block of Southview Drive and features items such as roadway "neckdowns" to control and slow speeds (in lieu of the existing wide "drag-strip"), a designated and paved school bus stop for children awaiting the morning bus pick-up and several stormwater capture and treatment devices - including porous concrete walks, bio-swale areas, and permeable paving parking areas. In addition to decorative pavements street trees are included to improve aesthetics and air quality while also reducing stormwater runoff and particulates in the air. Another benefit would be to reduce heat island effects by shading pavements.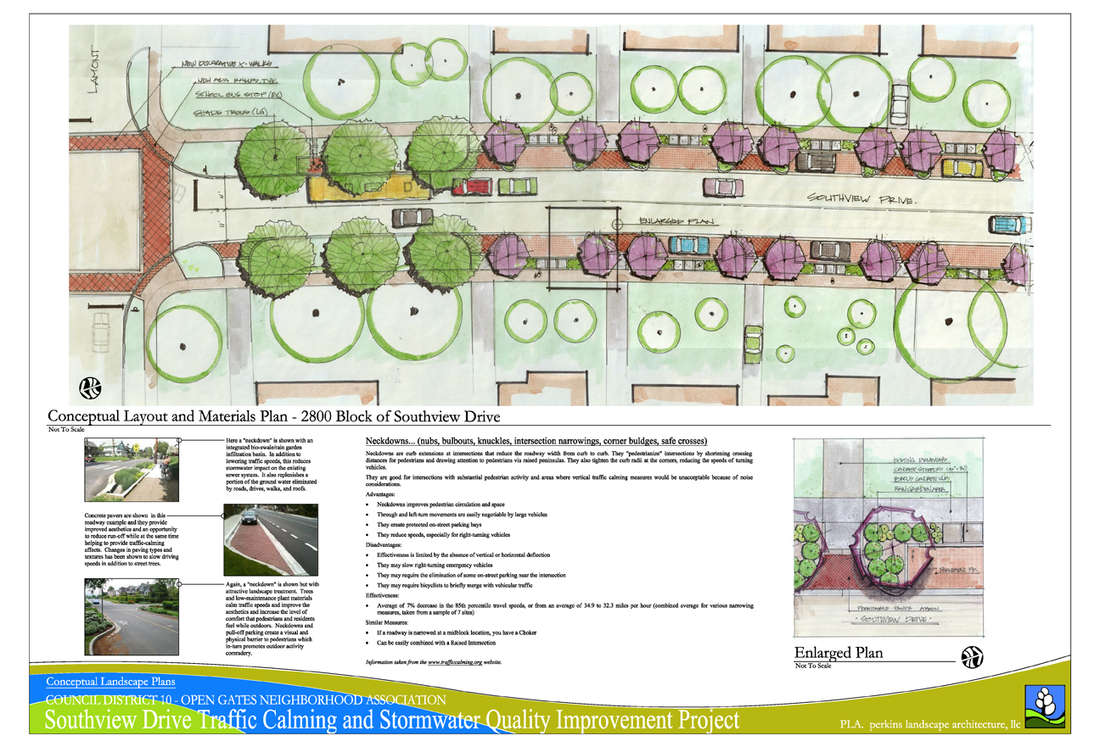 ---
Clays Mill Elementary School - Clays Mill "Cats Glade"
Schematic designs developed to present to Fayette County Schools
to enhance the new renovations to the elementary school celebrating its 60th anniversary in 2014. The concept includes the addition of a native/naturalized grassland or "urban glade" scattered with native species of trees adapted to an urban setting - soil conditions range from typical urban (somewhat compacted) clay soils to wetland-type soils at the existing stormwater detention basin. In addition to the improved aesthetics to the Clays Mill Road corridor the "Cats Glade" provides additional learning opportunities to students by introducing appropriate native plant materials and wildlife such as birds and the threatened Monarch butterfly (http://news.nationalgeographic.com/news/2014/08/140819-monarch-butterfly-milkweed-environment-ecology-science/). High visibility of this project feeds public awareness of urban forestry issues and further enhances Fayette County School's green mission
"To empower students to create change through enduring improved sustainability by equipping school and community stakeholders with the tools and knowledge to preserve our natural and fiscal resources."
---
Signage and Front Entrance Landscape Update + Broadway Street Planting Recommendations
First Baptist Church Paducah, Kentucky
---
Halverson Residence - Georgetown, Kentucky
Working for Landscape Contractor TrimMaster's Lawn and Tree Care
---
The HomePlace HOA Entry Sign Wall Landscapes - Installation Completed!!!
The Plants are going in the ground right now! The Project is looking great so far... Executive Landscape Services is doing a good job on-site. Thanks to EMG Management Services for such great design opportunities. See also:
http://www.pla-design.com/uploads/3/4/2/0/34202238/6352824_orig.png