PLA now provides FULL-SERVICE Commercial Design and development planning through

Bacon | Farmer | Workman Engineering

. Beginning January 2016, PLA will offer Landscape Architectural services through BFW in addition to a Full Range of Engineering services.

Contact Jonathan Perkins if you would like to speak about Commercial Design Services!

Jim Beam American Stillhouse,Jim Beam Brands Co.
Clermont, Kentucky

The project is designated a LEED Gold project, the first for PLA. It included an adaptation of the Distiller's facility master plan for the Clermont location and a complex level of landscape planting design. The landscape was modeled on the traditional cottage garden style with nearly all-native plant material. The multi-acre site, once all phases of design and planting are completed, will have a variety of significant Kentucky-native trees, shrubs, perennials and a variety of plaza spaces that accent Jim Beam's American Stillhouse building designed by Barnette Bagley Architects of Lexington, KY. Opened in 2013.



---

---

Fairfield Inn. Development Plan & Building Landscape Design - Lexington, Kentucky

PLA was contracted by Abbie Jones Consulting of Lexington to provide landscape planting requirements for the project development plan and to develop landscape planting designs for the building itself. Plans were provided that focus heavily on attractive, low-maintenance plants. Project expected to be completed by summer 2016.

---

Beaumont Centre Neighborhood - Conceptual Design & Montage - Lexington, Kentucky



PLA was challenged by Diamond Landscapes of Lexington with the task of creating new landscape designs for 6 different existing neighborhood entry gates into the various areas of the Beaumont neighborhood. This included the entrances to Beaumont Centre Drive at Man o' War and The Reserve at Beaumont. PLA provided design concepts that could easily be installed and maintained by Diamond as a part of their annual maintenance. Designs were completed in October 2015.

---

Townhomes at Hamburg Pavilion - Conceptual

Design & Modeling

- Lexington, Kentucky
PLA was asked by Executive Landscape Services of Lexington to provide conceptual designs for a townhouse complex in need of some fresh ideas for revamping and maintaining the property. Selection of areas presently in minor use or in need of an aesthetic facelift led to the redesign of the terraced courtyards and some pedestrian entry points highly visible from Star Shoot Boulevard a highly trafficked corridor in Lexington's Hamburg Pavilion area.


---
Old Good Shepherd Catholic Church Courtyard Landscape - Frankfort, Kentucky

This courtyard space was a nearly clean slate for ideas. Allen Sweeny of Al's Complete Lawn Care requested that PLA provide a site landscape plan for a space to be used for formal events & gatherings such as weddings and galas. The initial plan was created with the use of an outdoor stage and great lawn for gathering space in addition to intimate social areas and gardens. The requested revisions to the plan were to include a paved area that would support a removable tent/canopy 50'x50' - roughly half of the size of the space. After some thought and additional direction a revised plan was produced. This project is at the corner of Wapping and Bridge Streets in historic Frankfort, KY.

---
The Kearney Hall HOA Signage Wall Landscape Update- Lexington, Kentucky

PLA was again commissioned by EMG Management Services and the Homeplace Home Owner's Association Board to provide an updated landscape planting plan for the out-of-date, dying, and inappropriately planted neighborhood entry signage on Kearney Ridge Boulevard off of Georgetown Road in Lexington. The project site contained 2 stone verneer walls on either side of the boulevard and a significant planting bed with "Kearney Hall" signage wall and columns at the end of the median directly facing Georgetown Road. The design intent was to provide lots of seasonal interest, a variety of textures, colors and shapes that would call your attention to the entrance of the neighborhood. The integration of boulder retaining walls and stone curbing help to provide visibility to the landscape from vehicles coming or going down Georgetown Road and to slightly elevate portions of the median so that it didn't appear so flat while not obstructing the granite sign.
Design complete: Summer 2014
---
The Homeplace HOA Signage Wall Landscape - Lexington, K
entucky

PLA was commissioned by EMG Management Services and the Homeplace Home Owner's Association Board to provide a replacement landscape design for the presently existing entry signage walls to the neighborhood located on Polo Club Blvd. in Lexington's Hamburg area. The project site consisted of 2 stone veneer walls on either side of the boulevard and a recommendation & design for the center median - including a stone column and a consistent landscape planting design. Design & Installation complete: Summer 2014
---
The Eastpoint Office Condominium Complex 2013 Landscape Update - Lexington, Kentucky

PLA was commissioned by the Eastpoint Condominium Association Board via EMG Management Services to redesign the 7-building, multi-acre office condo. complex in order to provide a consistent, attractive, flowing, and sustainably manageable landscape. The existing plant material wasn't consistent throughout the complex and most of the ornamental trees were damaged in previous ice storms or damaged severely by the landscape maintenance company due to incorrect pruning and plant care. In addition to foundation plantings at the building faces, planting design was performed for 2 dumpster enclosures, several parking islands, and a signage wall were designed. Design and 12-sheet installation/planting drawing set completed: Fall 2013 - (Installation Cost-estimation was provided to Board by US Lawns of Lexington.)
---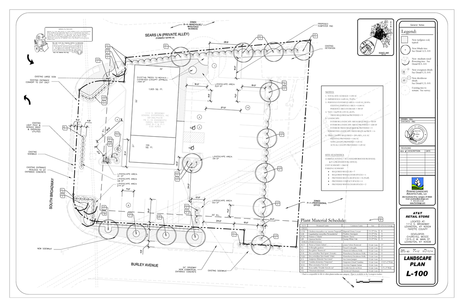 AT&T Store - Harrodsburg Road Location Landscape Plan

PLA was commissioned by the construction general contractor, Churchill-McGee, to provide a landscape plan for their client that was attractive and moreover compliant with the Lexington-Fayette Urban County Government's landscape ordinances for commercial redevelopment. PLA worked hand-in-hand with the LFUCG landscape reviewer to gain review and approval within 2 days. Completed (not as designed) in summer 2014.
---
---
Davis H. Elliot Electrical Vehicular Storage Lot - Lexington, Kentucky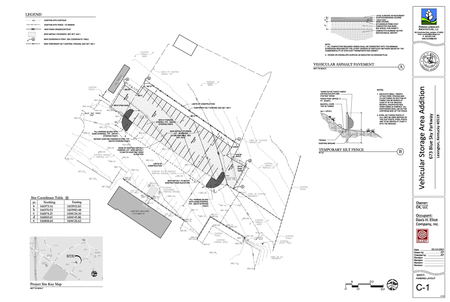 PLA was asked to design a new parking area for long-term employee parking on the present Davis H. Elliot industrial (I-1) site. Owner requested standard asphalt lot which required the design of an enlarged detention basin. The project required the consulting services of Abbie Jones Consulting, civil engineering (
http://abbie-jones.com/
). Design completed for LFUCG approval: 2012.
---
---
Commercial: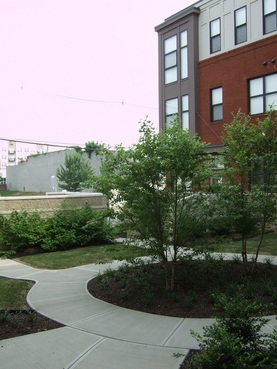 Center Court Condominiums, Phase 2 Landscape Design - Lexington, Kentucky

This project involved the development of a full site landscape design for Southhill Group for phase 2 of a popular condominium development on North Upper Street - north of UK's campus. It included schematic walk and planting design as well as construction documents for 4 courtyards and exterior breezeways. Installed: 2009.
Project completed while with M2D design group, Lexington, KY.



---
---