PLA now provides FULL-SERVICE Education + Healthcare Design and planning through
Bacon | Farmer | Workman Engineering
. Beginning January 2016, PLA will offer Landscape Architectural services through BFW in addition to a Full Range of Engineering services.
Contact Jonathan Perkins if you would like to speak about Education + Healthcare Design Services!
​
Educational:
Kentucky State University Mills Lane Farm Welcome Center - Frankfort, Kentucky

The project involved site planning and design task to assist in siting and design grounds for a new multi-million dollar Welcome and Conference Center for the KSU Land Grant Farm program. Tasks included sidewalks, parking lot, landscape planting and grading and drainage design. Project Architect: Barnette Bagley Architects, PSC. Completed: 2010.
Project completed while with M2D Design Group, PLLC, Lexington, KY
---
Eastern Kentucky University Stratton Building
Addition/Renovation - Richmond, Kentucky

This project was based around the addition of a new structure to the rear side of the existing Stratton Law Enforcement building and the enclosure of the former breezeway connecting the two major wings of the existing building. Site work involved design and construction administration of a new accessible front building entry with ramps, stairs, seatwalls and landscape plantings. The pond-side of the building (rear) included a two-tier plaza/patio space and a curve stairway from the second level to the pond-level. Completed: 2012.
Project completed while with M2D Design Group, PLLC, Lexington, KY
---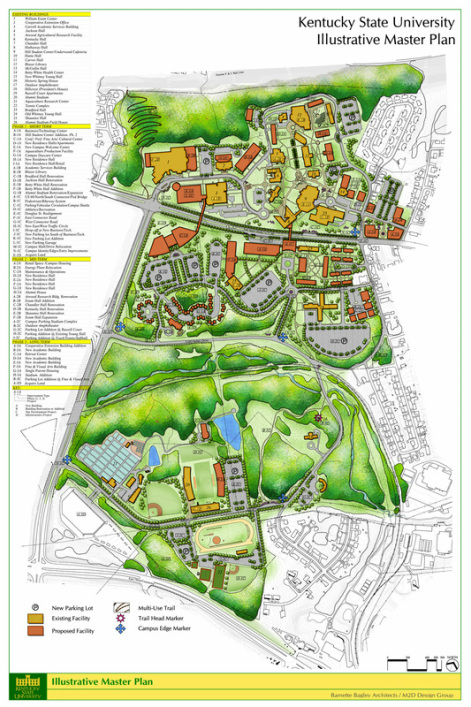 Kentucky State University Campus Master Plan Update (2007) - Frankfort, Kentucky

The project included development of a full-campus master plan update for the main campus and athletic campus. The plan included future development siting for academic, residential, agriculture, and athletic buildings, new roadways, walks and other campus amenities.
Project completed while with M2D Design Group, PLLC, Lexington, KY
---
---
Military: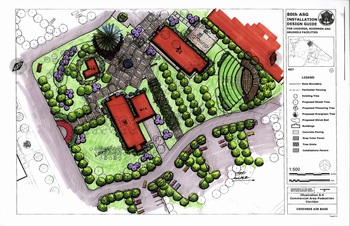 Installation Design Guide & Commercial Area Development Plan - US Army Airbase, Chievres, Belgium

This project involved the development of a Installation Design Guide for a US Army/Belgian Army airbase currently occupied by the US Army. In conjunction with work performed by military planners design work included multiple site improvement developments and an Area Development Plan for the Post Exchange & Chapel area of the base.
Project completed while with Parsons Corporation, St. Louis, MO.
---