Haskins Residence 2015 Landscape Master Plan
Jessamine County, Kentucky

PLA was commissioned to "wow!" the Homeowner. He was seeking a master plan for his back yard that entailed at patio replacement, new deck to replace the existing pressure-treated lumber deck which he hated the layout of, a pool, outdoor kitchen, outdoor seating, firepit(s), dining area, landscape, and opportunities to do all of this while still preserving the views to the neighboring horse farm from his living and bed rooms. PLA provided design concepts and material recommendations for new ipe wooden decks to match the curves of the pavement and reflect accents of the house, a spiral staircase to match the wooden deck and black balusters, bluestone tile paving on the pool deck, outdoor kitchen with overhead pergola structure, large pergola structure with understory plantings along east edge of the pool deck, a split-face natural stone seat/retaining wall, an in-ground/above-grade firepit, site furnishings, and landscape plant recommendations. PLA also worked with another local ISA Certified Arborist to provide proper tree pruning for several of the large existing trees on-site.
---
Catherine Monzingo Residence Landscape Master Plan
Lexington, Kentucky

PLA was commissioned to provide a landscape design for Ms. Monzingo's entire property on Bravington Way (Stonewall Estates). Work included the addition of a sloping shade garden along the side of her house, Garden stairs, drainage cistern to control roof water eroding her landscape & walks, a mixture of new and existing plant materials, improvement of existing vegetable garden space and vegetative screening of the rear nieghobor's property line. Design completed: 2014


---
Richard & Kimberly Butler Residence
Nicholasville, Kentucky

The Owner contacted PLA to work with him to provide a tree planting plan for his 5 acre residential lot with brand new home. The property contained no landscape plantings aside from lawn and farm fence-line trees. Scope of work included a native tree planting master plan, home landscape planting plan, and landscape planting details and plant materials schedule. Design completed: 2012 - Owner installation.


---
Perkins Residence Backyard Landscape Master Plan
Paducah, Kentucky

Residential backyard landscape design. Design elements consist of raised vegetable gardens, nearly all new planting beds, trees, raingarden to capture standing water, natural stone stepping stones, decorative cast-concrete paver walkway, various arbors, trellises, wooden screens, and a potting area with potting bench. Completed: Design completed June 2014.


---
Breeding Residence Backyard Walk & Patio Connection
Lexington, Kentucky

This residential design was performed to unite several existing elements in the backyard of the Breeding residence. The addition of a patio space with firepit and new paving stones flush with the lawn provide a united landscape with elements promoting outdoor activity and simple lawn maintenance. A simple curved seatwall with trellis provide a backdrop to balance the off-center location of the existing wooden gazebo and help frame the landscape plantings.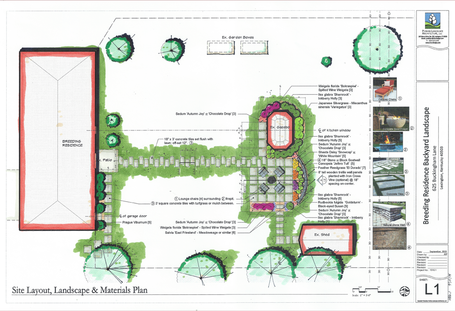 ---
Patton Residence
Lexington, Kentucky


---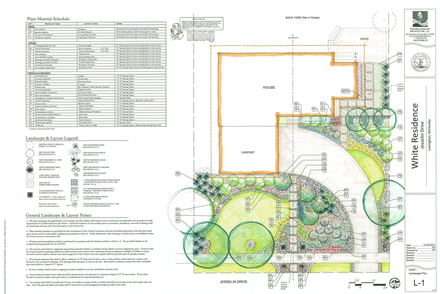 Rendered Final Front Yard Plan
Steve & Beth White Residence
Lexington, Kentucky
Scope of work included landscape and sidewalk design for a residence on Jesselin Road designed by the late Architect Richard Isenhour. This design included the use of a mixture of Kentucky native plants and various other ornamental perennials, shrubs and trees. The concept was to provide a welcoming connection to the streetside walk where none was present and reduce emphasis on the driveway on this significantly Architectural home.
Design completed: 2011 - Owner installation.
http://home.insightbb.com/~rlisenhour/rbisenhour/rbisenhour.html
---
---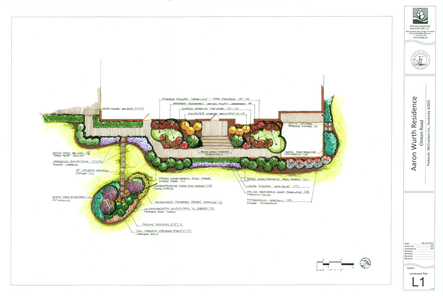 Aaron Wurth Residence
McCracken County, Kentucky

Provided a landscape design for the Owner to install over the next several years. PLA was given a virtually blank slate but was asked to work with existing sidewalks, flagpole area landscape bed and an existing Japanese Maple which was recommended to be kept.
Design completed: July 2012


---
---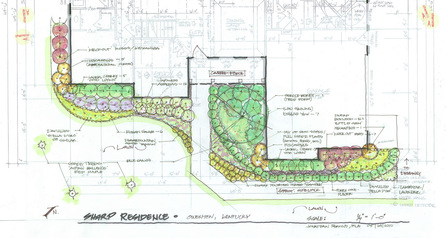 Jason & Amy Sharp Residence
Owenton, Kentucky

Project scope was to provide colorful & attractive landscape planting design for a newly constructed home in Owenton, KY. Design included waves of colorful perennials backdropped with a mixture of various evergreen and deciduous shrubs and ornamental trees to accentuate the front facade of the red-brick house.
Installed: 2010.


---
---
Dal & Laurie Barrett Residence
Lexington, Kentucky

Scope of work for this included replacement and enlargement of existing patio space to provide for a usable outdoor seating/dining area with easy access to the lawn, garden, and play areas. Pavement design included the use of stamped concrete, integrally colored concrete and integral seatwalls.
Installed: 2011.


---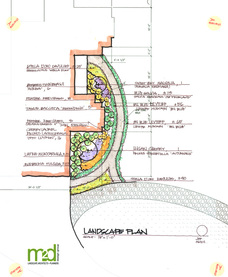 Kubican Residence
Winchester, Kentucky

The scope of work for this project included landscape planting plan to enhance the newly constructed residence. Design work was performed for Four Seasons Landscaping of Lexington. Installed: 2011.
Project completed while with M2D Design Group, PLLC, Lexington, KY


---
---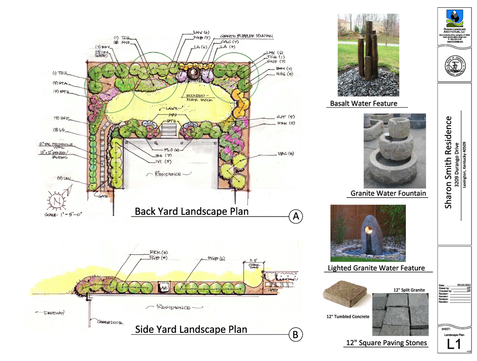 Sharon Smith Residence

Lexington, Kentucky

PLA was commissioned to provide a landscape plan that accomplished 2 goals: to provide shade for the back, south-facing, side of the house and to provide an attractive landscape for the Owner to view from her patio.
Design Completed: 2011



---